Best Upholstery Cleaning And Stain Removal Service Randwick
Upholsteries like sofas and couches get dirty and have heavy stains very easily. The cleaning and stain removal process is very tough work. Homemade DIYs can be useful for the stain removal process but only if you are good at this work. If you are not, then call Upholstery Cleaning Randwick for the best upholstery odour and stain removal service. We can clean and remove almost every type of stains from the upholstery like sofas and couches. Our professionals can easily remove stains from the leather sofa and make it like new. Call us today to get our affordable, effective, and professional quality upholstery stain removal service in Randwick.
No Charges For Quote
Offer Service 24*7
No Hidden Charges
Available On Same Day
Difference Between Leather & Fabric Upholstery Cleaning Services Randwick
Know The Major difference Between Leather and Fabric Upholstery Cleaning Services are Given Below:
Very less amount of water is used in the case of leather upholstery cleaning.
Different cleaning agents are used for leather and fabric couches.
Less equipment is required for leather upholstery.
Leather upholsteries can be cleaned in less time.
There will be a difference in the cost of the service.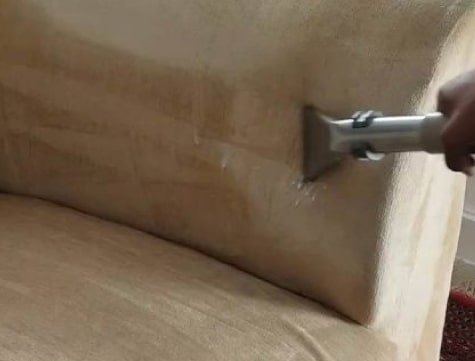 Affordable Sofa Scotchgard Protection
Protect your sofa from permanent staining by hiring our team of experts of Upholstery Cleaning Randwick for Scotchgard protection services. We adopted effective methods that help us to smooth the application of Scotchgard on sofas. Besides, you can avail of our Scotchgard protection services at affordable prices. So, call us to book our economical sofa Scotchgard protection services.
Upholstery Odour Removal Service
If you are experiencing bad odours coming from your upholstery contact us for immediate odour removal services. We use eco-friendly cleaning agents that are completely safe as well as eliminates all bad odours from upholsteries and gives a refreshing look. Therefore, for effective and affordable odour removal services in Randwick, hire our expert cleaners.
Lounge Steam Cleaning Services
Give your lounge a refreshing look by availing of our steam cleaning services. Our steam cleaning services are very effective as well as cost-efficient. Cleaners at Upholstery Cleaning Randwick have years of experience in providing steam cleaning services. Besides, we use high steam cleaning machines for the complete removal of all dirt and stains from your lounge. So, hire us for effective lounge steam cleaning services in Randwick.
Couch Scotchgard Protection Service
Secure your couch from unwanted spots and dust by hiring our Scotchgard protection services. We also use the best methods for applying Scotchgard on your couch. Our cleaning experts are fully experienced and trained in providing couch Scotchgard protection services. So, for availing of smooth and affordable couch Scotchgard protecting service in Randwick, hire us.
FAQ's On Upholstery Cleaning Randwick
How do you freshen furniture naturally?
Our carpet cleaners use eco-friendly cleaning agents that are completely safe and provide a new look to your furniture.
How can I deodorize my sofa with home remedies?
You can deodorize your sofa by using white vinegar and liquid soap solution. Mix half tablespoon of liquid soap, ¼ cup of vinegar, and a half cup of water in a spray bottle and spray all over your sofa, and clean it with a paper towel.
How do you deep clean a smelly couch?
Our professional cleaners use advanced cleaning agents that help us in removing dirt and foul odours from the couch.
Upholstery Cleaning Randwick
Call
02 3813 8756
Get Expert Services
Location:
Randwick
NSW 2031, Australia